Hey there Heroes,
We're charging towards the new year, and we have another exciting update ahead!
Before we jump into that, we also have a quick campaign update to share, as we've begun initial reach outs to premium backers in order to gather information for their premium rewards.
If you're a premium backer and we haven't been in touch with you yet, then don't hesitate to contact us at eiyuden@theyetee.com with the header "PREMIUM BACKER" so we can make sure you get your reward!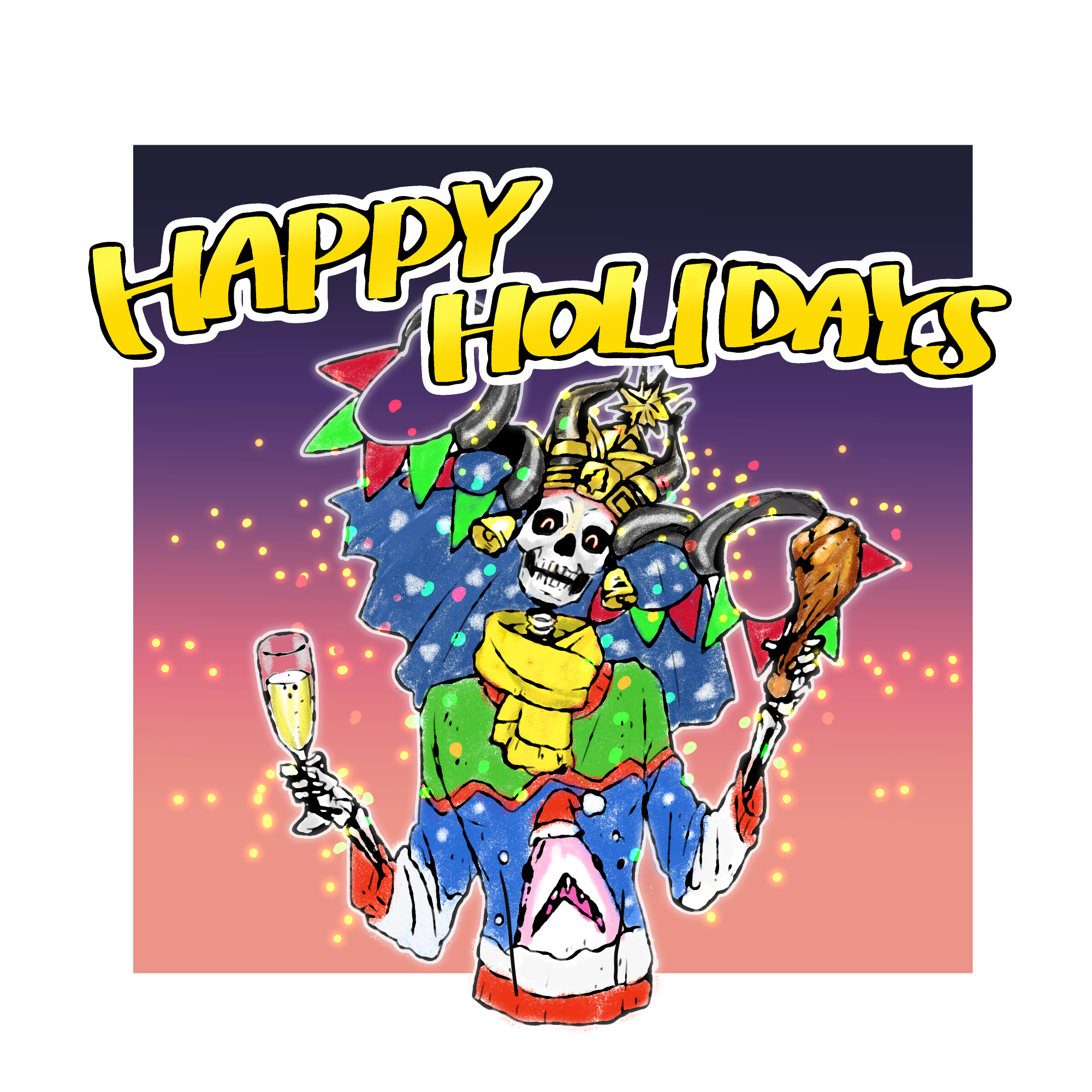 Murayama
Happy holidays!
This is our third new year since starting our campaign for Eiyuden Chronicle: Hundred Heroes back in July 2020. I knew developing a JRPG would take a long time, but this has taken longer than I anticipated.
Looking back on it, it's had its share of tough moments.
We spent months ahead of the campaign's launch preparing what we would need. Of course, there was a lot of work involved in creating the trailer video and putting together the game content we could show, but shooting the live-action movie for the campaign trailers was a challenge.
We shot the whole thing in one day, but had to walk between each of the shooting locations. At key moments, I was dressed in a yellow shirt with a cloak and pots and had to raise my voice. By the time we reached the last scene in the evening, I was so exhausted that I lost my voice.
Not to mention, there was one scene where I shouted "Eiyuden!" to summon my friends to come and help me, but apparently there was some background noise so I had to record that part again later…all on my own.
But I did it. In a nearby playground.
A lone man, recording himself shouting "Eiyuden!" I must have looked so suspicious.
And with that in mind, thank you again for all of your support this year.
Please continue to support us just a little longer next year.
Kawano
Kawano here.
The end of the year has really crept up on me so soon it surprised me.
How will you be spending your new years?
My work on the character illustrations is approaching the final stages, but there's still work to be done, so I've also been helping a little with the pixel art recently. In particular, pixel art of the ingame food.
I'm pretty nervous about having my work amongst that of all the wonderful pixel artists, but I wanted to focus on showing delicious food that each of the characters would enjoy. Like the kind seen below (although this may not actually turn up in the game).
Murakami
Happy Holidays!
Hello everyone, Murakami J here.
It's become that exciting time of year again.
We don't typically use the term "happy holidays" in Japan so it feels a little weird for me to say, but I think this excitement is universal at this time of year. That being said, these past few years, I've been more impatient than excited that a year has already passed, and haven't been able to enjoy it at all (lol).
I'm going to work really hard to make sure Eiyuden Chronicle: Hundred Heroes is released so I can finally enjoy the year end celebrations.
Other members of the team may have mentioned this already, but we're finally reaching out to our premium backers. And once again, I am reminded of the difficulties that come with taking care of and communicating with so many backers from so many different environments, all while juggling production of the game. I apologize for all the awkward correspondence.
I'm sorry for any concern or anxiety we may have caused over the course of this project, but we're doing our best to ensure that we meet your requests to the best of our ability. If you have any concerns then please check with the team at eiyuden@theyetee.com and thank you in advance for your cooperation.
And that's where I will leave you for today. It's a little early, but I hope you have a wonderful new year.
Murakami J
Komuta
Komu-nichiwa and komu-banwa everyone. Happy Holidays!
What's that, the third time I've wished you all a happy holiday now?
I feel like I'm saying the same thing every time, but whenever I do get in touch with you all I remember that we're making Eiyuden Chronicle: Hundred Heroes together with you, and that gives me the strength to keep going. Thank you all so much!
Production on Eiyuden: Hundred Heroes continues at a clip as we start to incorporate components into the main build. Various problems may arise as we insert prototypes and confirmed specifications into the build and we have to solve these one by one, but we work with the team every day to find solutions.
Sometimes our discussions are amicable, sometimes they're controversial. And sometimes, we're forced to change specifications altogether. But then we get ideas to turn these changes into positives and the team works together to improve the final product. This year was one we were able to use to further add to that level of perfection.
We were also finally able to show off some in-development footage at Tokyo Game Show this year. I think we got across everything we wanted to.
As for our Premium Backers who supported us with the Become an NPC, Become an Enemy, Add your Cat to the Game, etc. tiers that will be added into the game itself, we've recently sent emails out for. These are to confirm the details for your promised content. Thank you for your patience during this long wait!
We've already received responses from many of you, and have been soothed by the photographs of everyone's cats, dogs, and other pets (lol).
We will make a start on creating the data that will be incorporated into the game based on all the information we have received. And if you haven't gotten an email yet, the please check the following:
Twitter eiyuden@theyetee.com
This message ended up being kind of clerical, but we're now in the final stages of the game's development. We're going to start showing everyone screenshots of the game from the beginning of next year, so we hope you're looking forward to that.
I hope you all have a Happy New Year!