Pre-orders have opened for the physical launch of 2.5D side-scrolling RPG Eiyuden Chronicle: Rising on January 26, 2023!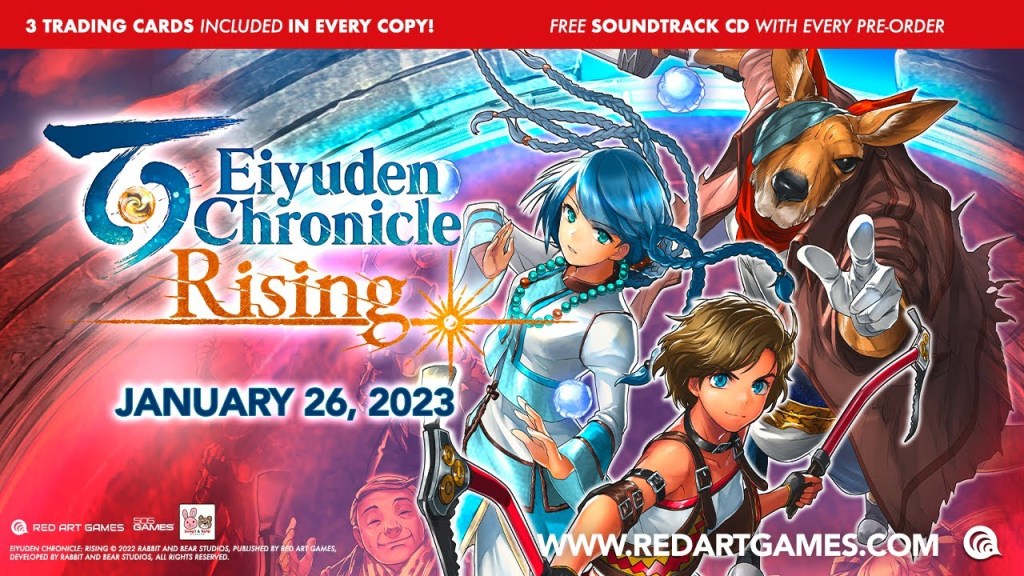 Pick up your copy today on Nintendo Switch, PlayStation 4, or PlayStation 5. Pick up the game via Video Games Plus in North America, Red Art Games in Europe, and from retailers around the world. Each physical copy of Eiyuden Chronicle: Rising comes with three trading cards, unavailable anywhere else. Those who pre-order from Video Games Plus and Red Art Games will receive a soundtrack CD as a bonus.
Video Games Plus North America: https://505.games/ECRNA
Red Art Games Europe: https://505.games/ECREU
Created by legendary game designer and a creator of Suikoden, Yoshitaka Murayama, Eiyuden Chronicle: Rising unites three unlikely heroes together on a mission to rebuild the quaint town of New Neveah after a devastating natural disaster. Combine each character's distinct fighting style with collaborative Link Attacks to plunder powerful artifacts and square off with powerful bosses.
Own the thrilling tale in lasting form, or experience it for the first time! Rising' features a narrative full of intrigue, with events that set the stage for the upcoming JRPG Eiyuden Chronicle: Hundred Heroes. Revel in the gorgeous 3D environments, handpainted enemies, serene soundtrack and satisfying action combat when Rising launches on PlayStation 4, PlayStation 5 and Nintendo Switch next year!
Eiyuden Chronicle: Rising's Physical Edition launches January, 26, 2023is now available on Nintendo Switch, PlayStation 4, and PlayStation 5.